News for August, 2022
DISCLAIMER: This is the Site News for the English Branch of the SCP Wiki. The opinions of the individual members of the Site News team that are presented in each edition of the Site News are their own thoughts and are not meant to be representative of the Site News team as a whole nor are they representative of the staff body as a whole. If you take issue with any of the contents, then feel free to reach out to the editor(s) and they will review the contents to see if there are any edits that need to be made. We intend to always deliver interesting content to you, and we understand that there may be times where controversial or unpopular opinions will be presented whether by our writers or our editor(s). Thank you for your understanding!
I'll be brief, apologies for the late release this month. With 7k's posting period wrapping up and some other Community Outreach initiatives taking priority, it was a bit of a challenge to get this out quickly. We hope to be more on track in the future though!
Happy Birthday, Dr Gears!
On April 30th, 2009, Dr Gears announced that his birthday was coming up, all he wanted was a few spooky stories. The "contest" would begin on that day (April 30th) and end on August 10th. By the 10th there were at least 11 entries. Sorts won, but their entry has been deleted sometime in the following 13 years.
The next year… nothing happened. However, the year after that, Gears Day was officially codified as a day of celebration for the SCP Wiki. It's celebrated on Dr. Gear's birthday: August 18th.
So here's how it goes for the uninitiated: every August 18th (except in 2016 and 2019, which we missed for some reason) several authors in the community get together to write small little horror vignettes. They're all collected on a hub dedicated to the eponymous celebration. The topics of these vignettes vary greatly. I call them "horror vignettes" to sound sophisticated. But that's really not what they are, they're creepypasta. It's fitting really, Gears has been around since the beginning. Back then, the SCP Universe wasn't an Urban Fantasy combined with cosmic horror combined with science fiction combined with fantasy combined with conspiracy fiction combined with–
You get the point. It was a creepypasta. We'll be celebrating it again for the 10th time this year! Click here for a link to the Gears Day Hub and click here for a link to today's celebration. Have fun!
Happy Birthday, Dr Gears!
The Winners of the 173 Art Contest have been Announced!
On the 22nd of June, 2007, a user by the name of S. S. Walrus (later and more commonly known as Moto42) made the original SCP-173 post onto the /x/ board of 4chan. You can see an archived view of the post here! This was the origin of SCP as we know it. 15 years and almost 7,000 SCP articles later with numerous tales, formats, and other kinds of pages, the SCP Foundation project is still going strong thanks to our vibrant community both on and off the site!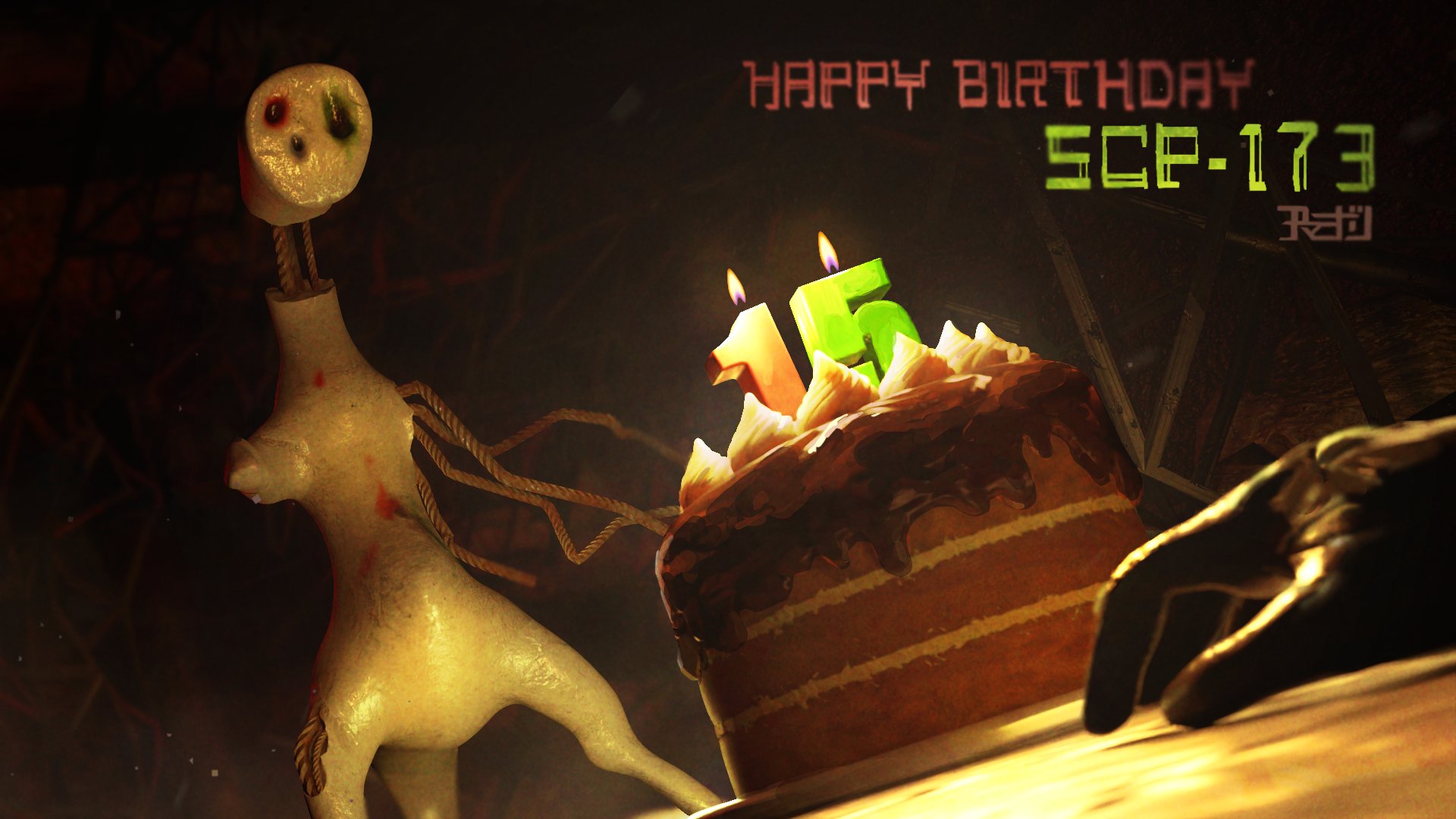 This year, we decided to celebrate with the 173 Anniversary Hub where a staff letter was written to the community, a short survey about the origin of our users was run, an investigation on "Untitled 2004" was conducted, and more relevantly an art contest was conducted with the prompt to create a rendition of SCP-173 celebrating its own birthday! Some of the entries were chosen to be part of this gallery on the SCP-173 Redesign Hub. The overall winner was Amamidori as shown here! Their picture will be displayed on the front page for the month of September as a reward.
The Suggestions and Complaints Thread
The Town Halls last year did not go well …
This year, we reworked how we were going to conduct them and respond to them. I believe they went better this year, and we have already begun working on some of the suggestions presented to us. The Community Outreach team intends to continue doing these each year (likely during the month of May). I hope everyone understands that we can't implement every suggestion or fully address every complaint. Some of them contradict each other and some happen to be impossible to do while on Wikidot. For the ones we could address and the ones we decided to not proceed with, we did try to explain why we did so. For those a little confused on where these suggestions and complaints took place, check out this thread here. For the staff response to most of these, click on this link here to view that thread.
7kcon's Posting Period has ended!
As the title reads, the posting period for the SCP-7000 contest has ended and we are well on our way to finishing out the voting period. As always the winner will receive the SCP-7000 slot and the runners-up will have their pick of the remaining slots available. As of the time of writing, we currently have 118 positively-rated articles with a turnout of over 160. We will let you know of future updates. As the first contest I personally have hosted, I hope everyone has enjoyed it! We have learned a lot and hopefully, the next one will go even smoother!
Every month, an article is selected from each of the three common article types: SCP, Tale, and Group of Interest Format. These three articles are displayed on the front page for the month to bring further recognition to them.
If you would like to view the previous front page features, you can view the archive for the SCPs here, the archive for the Tales here, and the archive for the GoI Formats here!
SCP-6468 by tetsusquared: pvp potion by dado
All affected civilians are to be taken into Foundation custody, force-fed 1 m3 of cow's milk, and released after confirmation that anomalous effects have ceased.
Alex Thorley Eats A Burger by syuzhet
So, one foot in front of the other, you exit Site-19 and cross the cusp into Burger King. It's seamless, because there's no door.
Lintbugs! by Dr Asteria
And, second, they're in almost every household on Earth, and yet only us and the Supervisors know about them!
---
Works are featured on the site's front page as part of the Reviewers' Spotlight, which acknowledges the time and effort spent by forum reviewers helping other authors develop and edit and their works for the mainsite. Each month, community members are encouraged to nominate forum reviewers who have been both particularly helpful and active. Members of the Forum Criticism Team will then discuss the nominations, and select four prominent reviewers to choose the month's Reviewers' Spotlight front-page features.
If you would like to view previous spotlights, you can view the archive for them here!
---
Thank you so much for reading the SCP Wiki's Site News!
---
page revision: 1, last edited:
18 Aug 2022 18:47