The Mighty Lore and Aesthetics Contest
This contest is open to entries written in English, but is being ran on the International Translation Archive - go to this page to register and to link to entries!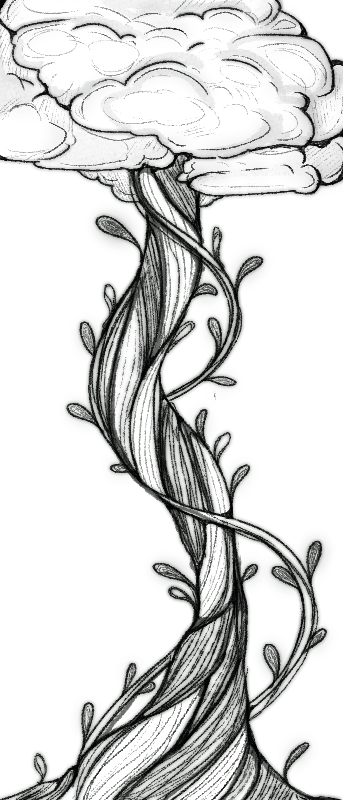 Phew! After all the effort, the weeks of training, the dozens of broken ice axes and a few power naps on the gigantic sheets of paper, you have just hoisted yourself to the top of the Great Literary Beanstalk. As you pull your backpack up on your shoulders, you see a cabin of gigantic proportions looming before you: perched atop its misty island, the House of Lore stands. Its sheer size is making you feel as though you were a little mouse, and you are already looking for a way in. Fortunately for you, near one of the hinges of the wooden door is a crack. Come on, you're almost there!
You jump several meters down onto a tiled floor, and your landing echoes through a corridor. In a swift motion, you collect your grappling hook before surveying your surroundings. Each tile is the size of a small apartment and the black-and-white pattern is giving you the impression of standing on a gigantic chessboard. But are you the bishop, the rook or one of the pawn? A pleasant odor attracts your sense of smell. It seems that someone is cooking in a room further down the corridor. Intrigued by the odor, you decide to remove your shoes to make yourself quieter and trust your nose to guide you.
You pass through a peculiar "Lore Bureau." In this room made of the rarest wood, the candle lighting is mirrored by the immaculate floorboards upon which no one has set foot in the longest time. Suddenly, something catches your attention. On a lectern, the book series A Song of Ice and Fire in Quarto format sits majestically, along with an additional, unknown volume. Taking a closer look, it appears that tiny pieces of paper, coming from God-knows-where, are flying up toward the pages, as if a recording of a book being torn apart was being played backwards. In awe, you once again smell the irresistible aroma and move on forward, but not without noticing familiar elements on your way. A bust of Isaac Asimov, with robotic features, sits besides a portrait of Marcel Proust, just above what appears to be a worn computer monitor flashing a title: The Elder Scrolls VI.
After a few minutes, you eventually reach a large, closed door. The delicious aroma that has brought you there is leaking from the medieval-looking keyhole, which is big enough to let you through. Now acquainted with this strange climbing sport, you throw your grappling hook onto a giant splinter and begin your ascent. God, is it hard to focus with this wonderful smell filling your lungs!
When you finally reach the height of the keyhole, you are treated to an unexpected sight. A… cooking class?
"Splendid, splendid, my little goblins!" a bipedal giant with green skin rejoices, ladle in hand and wearing a toque blanche. "I can see your little lores are mixing, it's beautiful!"
"Chef, Chef," a similar-looking creature interjects, with a more childlike appearance. "I've got greenish clumps in my lore!"
"Let me have a taste…" the teacher says before immersing his ladle in the titanic goblin's cauldron. "Ah, yes, a little too much worldbuilding. Mmmmh, try adding some emotional tension!" the chef suggests as he hands out what looks like Gulliver's salt shaker.
"Um… Chef?"
In the back of the classroom, a cauldron is making very large bubbles as a panicked, juvenile titan watches.
"Woah, what's going on in there, my little Kaos?"
"I… I dropped my dice in the pot…"
"Oh no," the goblin chef mutters before starting to scream. "Take cover, everyone!"
As the pot of lore explodes, you see a wave of multicolored soup surge towards you, preceded by a dozen fleeing colossal goblins.
The Mighty Lore and Aesthetics Contest

Contestants & Entries
The contest is over. Here are the entries.
Contestant(s)
Branch
Constraints

(· has rerolled)

Entry (original)
Entry (English translation)
CretinusVox
FR
· Stonepunk, Portuguese thaumaturgy
SCP-689-FR
SCP-689-FR
Oreobanane (puccimaskass)
FR
· Vulture culture, SCP-RU-178
SCP-618-FR
/
ThatGuyRichard (moby_rik)
IT
Cottagegore, PAMWAC
Uwucazione
Uwucation
Allnyta (allnyta)
DE
· Mushroomcore, maxwellism-com-jp-lightning
SCP-390-DE
/
Henry Von Kartoffen (henryvonkartoffen)
FR
· Decadent, Association of Black Magic Power Users
SCP-563-FR
SCP-563-FR
Rab333 (Hexon555#0982)
EN
Dark Romanticism, Little Havana
Insignificance
/
DrJohannes (johannesviii)
FR
Marginal, Liferaft
Noir Blanc Jaune
noir-blanc-jaune
jtdn (jtdn)
FR
Academia, ALDA
SCP-642-FR
SCP-642-FR
Alwaid (arkanur)
FR
Post-apocalyptic, SCP-250-DE
Lumière à l'horizon
/
Aftokrator
EN
After Hours, Republic of Shigastan
SCP-7722
/
LechugaNinja
ES
· Cyberpunk, IMBW
SCP-ES-229
SCP-ES-229
Cauchynambour & Dr Benji (doc_benji)
FR
Mythpunk, MADAO
De fil en aiguille
/
Nephritis
EN
Afrofutrism, Robotic Republic
LTE-6362-Bronze-Blackwood - "Moway-Lubwe Man"
/
KH Nam
VN
Countryside, Humanist Gentlemen
SCP-030-VN
/
BitOddInnit
EN
· Kidcore, SCP-106-TH
Masayang Palaka
/
JNColossus (colossus#3655)
IT
Futurism, Grotto of Gangrenous God
Un Diario Di Guerra Datato 1943
/
Ethagon
EN
Voidpunk, SCP-106-TH
Bee Swallowed
/
Irina Bougainvillea
VN
Abstract, SCP-150-DE
Mười Sáu Mùa Tuyết Phủ
/
Dr Ore
DE
· Solarpunk, Letters Entertainment
Dinge Die Inspirieren
Things that inspire
Guaire , Uncle Nicolini & AriadnesThread
EN
· Byzantine, Cult of the Great Green God
The Virtue of Resilience
/
The Pighead
FR
Sterile, Delta T
Nettoyer, Astiquer
Wax On, Wax Off
Felixou
FR
Fantasy, scp-1134-jp
SCP-622-FR
SCP-622-FR
Crow-Cat & LAN 2D
EN
Gloomcore, scp-143-pt
SCP-7267
/
AgentSculder
FR
Monkeycore, Absinthe Dreams
Rêve d'égalité
/
SYTYCFanon & GregJChudley
EN
· Fantasy, Mirror Flashpoint
A Tale of Two Chugwaters
/
Agente Shuffle & EthanHanson
ES
· Solarpunk, Midnight Club
Corazones Muertos
si-es-real-entonces-me-quedare
Maxyfran73
EN
Dark Romanticism, African Office of Occult Affairs
SCP-7752 - A Cave East of Oran
/
Agent Phage
CN
Academia, Little Havana
求学·小哈瓦那
/
haplocalyx &two cat
CN
· Spacial, The Kingdom of Univers'Isle
自宇宙岛王国(Nx-12)寻获日记文本
/
SynthPanda_ & Prime Girl
EN
Fantasy, Meat Circus
Moral of the Story
/
blackinblack
CN
· Desertwave, Das Wunderkabinet
普通的多孔红砖
/
Jeallucine, Leo_Heliantas & Anoure
FR
Fanfare, Detective Marw
Un spectacle pour Marw
/
Stealth000
EN
Byzantine, Memories of a Nobody
Nobody, Not Anybody
/
arthcymro
EN
· Abstract, Caldeira
SCP-7669
/
KirQ & RedEyeMikeyy
VN
· Liminal Spaces, Mirror Flashpoint
SCP-022-VN
/
TimidChild&POI_Damgi
KO
· Solarpunk, Caldeira
SCP-569-KO
SCP-569-KO|
Hammeriano
ES
Web, Site-Aleph
Aleph-AI
Aleph-AI
Edward_Knave
ZH
Solarpunk, Polish spectrology
SCP-ZH-424
SCP-ZH-424
Some Reference & Ampyrsand
EN
· Polar, Psionics
Dancing Into the Sun
/
Mang Gwan
ZH
Cottagegore, Caecus Carneliana
懷恩村偵察任務說明
/
FattyAcid
JP
Voidpunk, French narrative anomalies
SCP-1382-JP
SCP-1382-JP
Enterark_D
CN
· Marginal, The Kingdom of Univers'Isle
#ExpIred728vR
/
Re_spectators & Enflowerz & Etinjat
CN
· Masquerade, Delta T
SCP-CN-2845
/
agente alan
ES
Solarpunk, Sekyriu Club
Ella sólo quería calmarse
She just wanted to calm down
Al_W0onder
FR
Masquerade, Association of Black Magic Power Users
De laque et d'or.
/
Odeo
CN
Countryside, Das Wunderkabinett
"韩赛尔与格蕾特"陪伴姜饼人
/
roneatosu
JP
· Tropical, Site-PL-69
SCP-3843-JP
SCP-3843-JP
WhoIsCthulhu
EN
Backpacking, Psionics
What to See in Kansas City
/
Dr Nieliux & Agent Truth & Agent Daal & Researcher Arnavaz
INT
Cyberpunk, Chopinian Cult
یک آغاز و یک پایان
An End & A Beginning
Agent Truth & Agent Daal
IR
Autumn, MTF Theta-90
یادگار گذشتگان
Remembrance of The Past
LeeBr
CN
Vacation Dadcore/Beauf, Site-PL-69
假期
/
winkwonkboi
EN
Liminal Spaces, SCP-143-PT
man overboard!
/
Felter Finalis
FR
· Futurism, Robot Republic
SCP-579-FR
/
The Winners
SCP-7669 & The Virtue of Resilience
English wiki nominee
French wiki nominee
German wiki nominee
Italian wiki nominee
Japanese wiki nominee
Korean wiki nominee
Simplified Chinese wiki nominee
Spanish wiki nominee
SCP-ZH-424 & wynn-village-reconnaissance-mission-description
Traditional Chinese wiki nominee
Vietnamese wiki nominee
[REDACTED]
Czech wiki nominee
[REDACTED]
Polish wiki nominee
[REDACTED]
Portuguese wiki nominee
[REDACTED]
Russian wiki nominee
[REDACTED]
Thai wiki nominee
[REDACTED]
Ukrainian wiki nominee
Unofficial branches will be added if at least one entry is posted on the concerned branch.
And the bonus INT winners
#1 bonus winner
#2 bonus winner
#3 bonus winner
Review and translation
If you're willing to help review translations of contest entries, please add yourself to the list below.
placeholder (Discord tag optionally) specify the times at which you are available here as well as ways to reach you.

Art by
nihonio,
Al_W0onder and
winterward
Thanks to
Dr Lekter,
Jerden and
slashannemoo for their help!

page revision: 8, last edited:
10 Jul 2023 22:02